For Immediate Release
Lauren Fisher and Sara Cook for Jennifer Wood Media, Inc.
Wellington, FL – January 15, 2017 – Week one of the 2017 Winter Equestrian Festival (WEF) concluded on Sunday, January 15, with a win for Daniel Coyle (IRL) riding Ariel and Susan Grange's Cita in the $75,000 Rosenbaum Mollengarden PLLC Grand Prix at the Palm Beach International Equestrian Center (PBIEC) in Wellington, FL. Conor Swail (IRL) and Flower finished second, and Catherine Tyree (USA) and Bokai placed third.
The 12-week WEF circuit runs through April 2, 2017, featuring competition for hunters, jumpers, and equitation, with over $9 million in prize money up for grabs. The Winter Equestrian Festival continues on January 18-22 with CSI 2* and Premier "AA" competition, sponsored by Marshall & Sterling.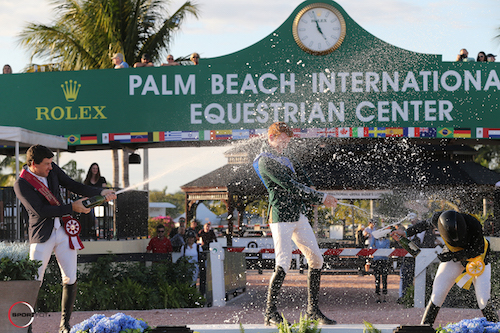 2016 Olympic course designer Guilherme Jorge (BRA) set the tracks for WEF one competition in the International Arena at PBIEC. Jorge saw 52 starters over his first round track for Sunday's grand prix, yielding a 15-horse jump-off, with eight double clear rounds. The top three all finished within the same second, just fractions apart.  For the win, Coyle (22) bested his mentor and Cita's former rider, Conor Swail, who settled for second place riding Finca Horses' Flower. Coyle and the 11-year-old Holsteiner mare (Casall x Pik Ramiro) crossed the timers in 37.05 seconds, just ahead of Swail and Flower's time of 37.16 seconds. Tyree jumped into third place with Mary and Joe Tyree's Bokai in 37.49 seconds.
Coyle began riding for the Granges' Lothlorien Farm at the start of the 2016 season and worked together with Swail all year. After a five year partnership with Lothlorien, Swail left to pursue his own business this fall, and the split left Coyle in the irons of all of his top horses, including Cita.
"This is my first show with that horse and last week was my first week riding her," Coyle detailed. "Conor did very well with her, so we knew she was a good horse. It takes me awhile to get used to them, and when I do, I feel very comfortable. I kind of knew her already from working alongside Conor, so I'm very happy. It is only my second week on her, and I really like her."
Speaking about the change at Lothlorien and his abundance of new mounts for the winter, Coyle stated, "Fortunately for me, Conor left. I have all of these new horses, good horses. I had very good horses before; a lot of younger ones there, but to get his horses as well as the ones that I had, I was very fortunate. It is just going to take me a little while to figure them out for myself, but today went well."
Swail went fifth in the jump-off and held the lead until Coyle came along four rounds later to best his time. Commenting on his trip, Coyle explained, "I had seen Conor's round. I was in the warm-up, and I watched his round because I knew it was going to be fast. Even when we worked together, we were very competitive against each other anyway, so I knew to watch him. Catherine had me very scared as well at the end. It was a great jump-off for somebody to watch, and it was a great jump-off for me to win."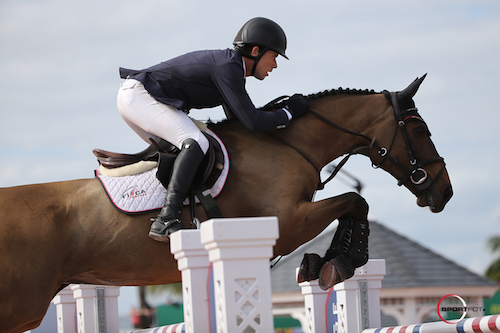 Conor Swail and Flower
For Swail, Nina Fagerstrom's (FIN) former mount Flower is a brand new ride this winter as well, and the rider is just getting to know the 12-year-old Belgian Warmblood mare (Bon Ami x Randel Z).
"Nine asked me just a few weeks ago if I would be interested in doing something with Flower and I said, 'Absolutely!'" Swail said. "I knew the horse well with her, and so far so good. We have been gelling quite well together. I thought today was her best round with the two of us together, so I am looking forward to the rest of the season."
Swail continued, "Nina's still riding away. She just felt that the mare is quite careful, and maybe my strength would help her a little bit. It seems to be the case. The horse is fantastic. She is seriously careful and quite straightforward to ride. It's fun having a horse to ride around when you know they don't want to knock the jumps down. It makes the job easier for sure."
Despite getting edged out by his former protégé, Swail was happy with his start to the winter circuit and happy to see one of his favorite horses excel under her new rider.
"Last year when I was with Lothlorien, I needed another rider to do the young horses, and I thought Daniel was very well qualified to do that," Swail detailed. "He started here last year and he had done an unbelievable job with all of the horses that he had. Now the situation is a little different, and he has some nicer horses, and he is doing equally as good a job on them. It's great to see him going well, and that was one of my favorite mares there, so it is great to see her going well. I would prefer he was behind me to be honest with you, but it's still good. My new mare jumped very well today, and I was very pleased with my own situation going forward. Obviously leaving a top barn like Sue's and Lothlorien, there is a void. I'm trying to fill that void, and it's nice that I already have some good horses that I can be competitive with at the higher levels."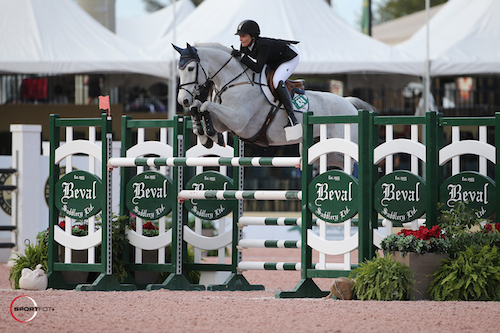 Catherine Tyree and Bokai
Sunday also saw a top result for young rider Catherine Tyree, who is returning to WEF competition this year after severely fracturing her foot almost to the day one year ago. After taking the time to heal and rehab, Tyree has made an impressive rise back to the grand prix level and has an exciting new partnership with her mount, Bokai. The 11-year-old Dutch Warmblood gelding (Up To Date x Ferro) previously showed under Norway's Victoria Gulliksen and then The Netherland's Harrie Smolders before pairing up with his current rider this summer.
"I just got him at the beginning of July, so it is a relatively new partnership, but he is such a competitive horse," Tyree noted. "I feel very fortunate to have him. This is his first show back since he showed at the National Horse Show at the end of October and it is like he never missed a beat. He is very sharp, he is very smart, and he is very quick. I knew if I took a shot today, he would be right there with me. Unfortunately, Daniel and Conor are a little bit quicker than I am, but I could not be more pleased with him."
Remarking on her success since returning to the show ring, Tyree stated, "It is definitely a very good feeling. It was one year ago yesterday that I got hurt. To look back at the year, it is unbelievable the things that my horses have done for me. I owe it all to North Run and John (Brennan) and Missy (Clark). They are incredible trainers and incredible people. When I came back, my horses were ready to go, and I felt very confident throughout all of it. This is definitely a very good way to start the circuit, and hopefully it keeps continuing this way."
For her top result this week, Tyree was also presented the award for Leading Lady Rider for WEF 1 competition, the award presented by Martha Jolicoeur of Douglas Elliman in memory of Dale Lawler. Tyree has her sights set on competing in some of the Saturday night grand prix classes this winter and hopes to continue gaining great experience in the top level classes throughout the circuit.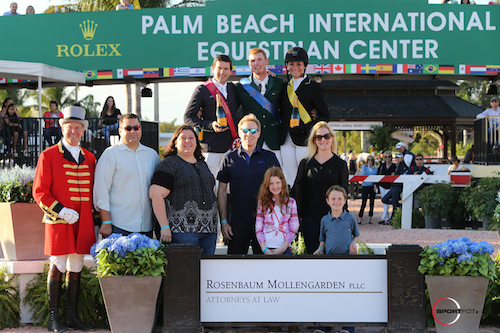 Conor Swail, Daniel Coyle, and Catherine Tyree in their presentation with ringmaster Steve Rector, James and Tatiana Yaques, Dan and Cheryl Rosenbaum, and their children Diana and David.
Representing Rosenbaum Mollengarden PLLC following Sunday's competition, Dan Rosenbaum commented on the fantastic day and top sport that took place. "It is a highly rewarding experience to be a sponsor of such an excellent event," Rosenbaum said. "The riders were incredible. The competition itself was at a very high level. It was a beautiful day and everything went just as perfectly as it could have been. This is typical of the experience that we have had as a sponsor of the Winter Equestrian Festival since it began. We find it just getting better every year; every year reaches a new level. It is amazing what the Winter Equestrian Festival has become and what the Wellington Equestrian Partners have been able to accomplish."
Also competing in the International Arena on Sunday, Christina Antonucci rode Zonneglans to victory in the $10,000 Equiline Medium Amateur-Owner Jumper Classic. The $10,000 Sleepy P Ranch SJHOF High Junior Jumper Classic saw a win for Coco Fath aboard Hillside Farm LLC's Huckleberry.